A lot happens to your dog in a short time
This is how you ensure that your puppy grows up well

From puppy to adolescent seems like a small step. Puppies grow very fast. Especially the large breeds. In a time of 1.5 to 2 years, dogs such as the Great Dane and the Mastiff just tap 80 kilos on the scale. This means that they double their weight and size many times in a short period of time. This rapid growth requires a good approach to the growth period.
From small to large
Healthy growth in small and medium-sized dog breeds
A puppy in the house often means a lot of cheerfulness. But underneath that cute look, a lot happens. Your puppy is – especially the first 6 months – enormous in growth. That means a great need for extra nutrients. For small and medium-sized dogs, growth usually proceeds without problems. Of course, it is important to choose special puppy food that is tailored to the nutritional needs of your dog.
Small dogs continue to grow until they are 8 to 10 months. Medium-sized dogs are fully grown around their first birthday. In any case, give your puppy puppy food until the end of the growth phase. Look carefully at the packaging (and at your dog) to make sure you feed the right amount. Up to the 6 months, the nutritional requirement still increases, but after that it goes down again in small breeds. Keep this in mind to prevent overweight.
Healthy growth in large dog breeds
In large dogs, the growth period requires more attention. Although large varieties often grow longer, their growth spurt still proceeds according to a rapidly increasing line. Keep the following things in mind during your puppy's growth phase:
Free Puppypack
Good nutrition is indispensable and with the right care and attention you will have a buddy for life.
See product
Nutrition
Nutrients
Healthy growth starts with the right nutrients. Protein is important for the development of bones and muscles. In addition, calcium and phosphorus play a major role in skeletal formation. These two substances must be present in the right proportion. This means that there should be just a little more calcium in the feed than phosphorus. A ratio of 1.2 grams of calcium to 1 gram of phosphorus is ideal. In good puppy food, this ratio is present as standard.
Calcium
Calcium deserves a separate explanation. It is extremely important for your puppy to get this in the right amount. A calcium deficiency limits the growth of the bones. Your puppy will not be able to grow as fast as it should. But also an excess is bad for the development of your big four-legged friend. If your dog grows too fast, he will suffer from growing pains. Eventually, too fast growth can even lead to abnormalities in the skeleton. That is why it is important to give your puppy the right amount of food per day.
Growing pains
Despite a careful diet, it can happen that your puppy suffers from growing pains. Growing pains occur when the bones grow faster than the feeding channels that are in them can handle. Often the solution is to switch to a feed especially for large breeds or to temporarily give a less diet. This gives the feeding channels the opportunity to adapt to the rapid growth of the bone.
If in doubt about the right food for your puppy, always call the professional feeding line:
+31 (0) 40 7820 208. You will then immediately get a nutritionist on the line.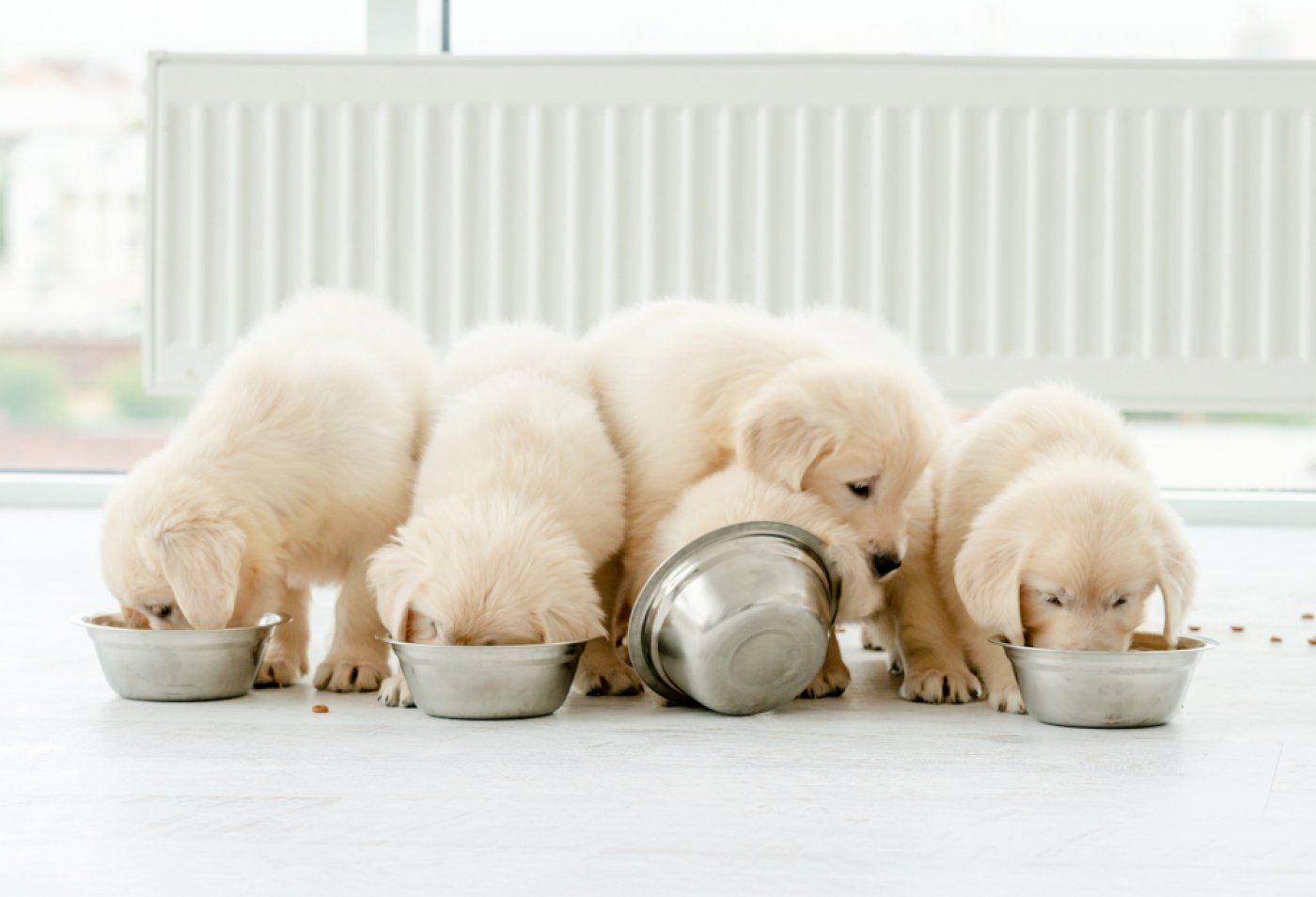 Chunks
Growing with policy starts with good puppy food
Good food is important for every dog, but certainly for puppies. When making your choice, always pay attention to the properties of the feed. Fokker has puppy food for small, medium and large breeds. The ingredients of this food are precisely tailored to the nutritional needs of your puppy. Our food for puppies with an adult weight of 30 to 80 kilos ensures an even growth of the skeleton. With this, it helps prevent growing pains.
How much should you feed?
The feeding table on each puppy food shows the recommended amount per age category and the expected adult weight. Keep this as a guideline. If you see that your puppy needs more or less, you can gradually adjust the amount of food.
Is your puppy almost ready for adult food?
Click here for the selection guide
We also have an extensive range for adult dogs with, among other things, food for sterilized, sensitive and picky dogs.
View the product range