Your puppy keeps "biting things"?
This is how dogs change their teeth

Chances are he's busy changing teeth. Puppies are known for biting a lot. They do this to investigate their environment. During the transition period, this chewing behavior increases again. But how does tooth change work in dogs?
Read on to learn all about how your puppy changes teeth!
Dogs' teeth
When your puppy is 3 weeks old, the first teeth will start to come through.
The milk teeth are complete around 3 months. Your little four-legged friend will then have 12 front teeth, 4 canines and 12 small molars. The transition to adult teeth begins at 4 months. First up are the front teeth, followed by the small molars and canines.
The permanent large molars also come through. At around 6 months, your puppy's teeth consist of 12 front teeth,
4 canines, 16 small molars and 8 to 12 large molars.
Is your dog already 6 months old and wondering when you can hand over all those baby teeth to the tooth fairy? Then unfortunately we have to disappoint you. Usually dogs just swallow their baby teeth as soon as they fall out.
Problems with changing puppy teeth
What do you notice about the switch?
During the transition period, puppies have an extra tendency to chew and bite. A special teething ring – which you can put in the fridge beforehand – helps to control this behaviour. Prevent your dog from getting into the habit of biting your hands. Sometimes puppies also suffer from diarrhea and they make more saliva. This is innocent.
In dogs with standing ears you sometimes see that they temporarily hang during the change. This is because your pup needs calcium to make new teeth. Good food contains enough calcium to support this process.
Usually, changing the teeth in puppies goes well on its own. The only problems that occur are deciduous teeth that do not fall out on their own, too many or too few adult teeth and an abnormal position of the jaws. Smaller breeds, such as
Shih-Tzus and Yorkshire Terriers, relatively more often have dental problems during the change. If you are not sure whether something is wrong, be sure to visit the vet for a dental check-up. This way you prevent nasty inflammations.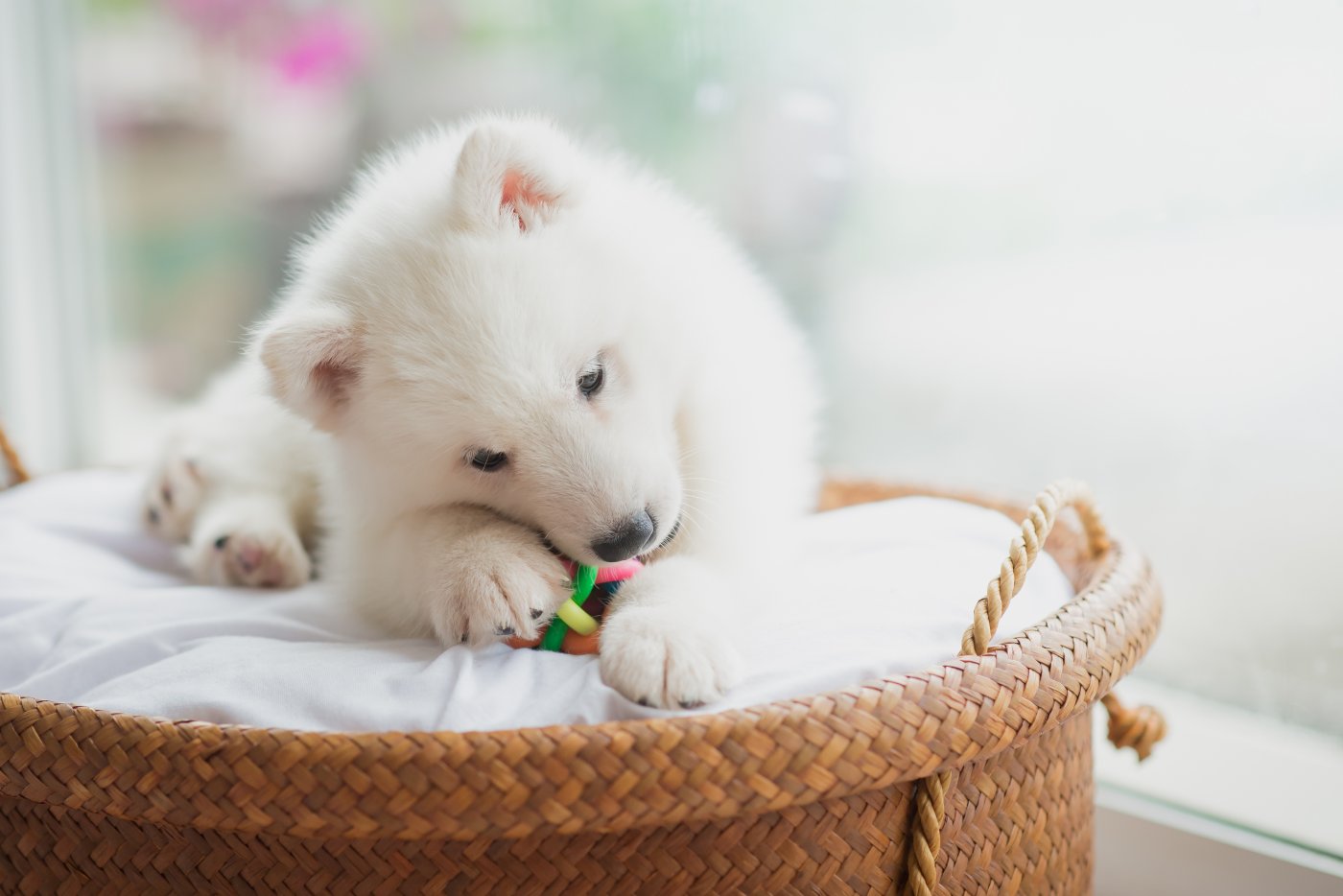 Toothbrushing?
During the change it is smart to let your dog get used to dental care.
This will make it easier for you to brush your permanent teeth, but be careful and don't mess around with a toothbrush just yet. Simply lifting the lips, tasting the dog toothpaste and checking the teeth with your finger is enough.
Dental care and food
In terms of food, the best option is to give your puppy special food for growing dogs.
In the Fokker range you will find puppy food for small, medium and large breeds.
Of course, a tasty meal in itself is a bright spot in your dog's day. Fokker has food for every stage of life, specific nutritional needs and even for real gourmets.
View the entire range