Bite, swallow, away!
The right chunks for your dogs teeth

Once your dog sees his kibble in the food bowl, his survival instincts kick in. And before you can even blink twice, it seems as if there were never any chunks in the bin. Chew? Your dog doesn't have time for that. While chewing kibble actually helps to maintain healthy teeth.
Read about the effect of good kibble on your dog's teeth.
Chunks clean the dog's teeth
What does a dog food need?
One of the benefits of chunks as a main food for your dog is that they help to keep the teeth clean. While brushing your teeth is the best way to clean your teeth, diet is also an important factor. The texture, shape and size of chunks all affect its cleansing effect.
The bigger the dog, the bigger the chunks. Large dog breeds have bigger jaws than their smaller counterparts. Logical, but certainly something to take into account when you choose the type of food you give your dog. If you give your dog too small chunks, he will probably swallow them without chewing. This can cause abdominal pain and flatulence. A chunk that is too large can make eating painful, especially in dogs with bad teeth.
The right size chunks ensures that your dog has to chew, without it taking too much effort. Therefore, before you buy new chunks, check whether the size is suitable for your dog. This way you help him maintain healthy teeth.
Hardness of chunks
To prevent dental plaque, it is necessary that dog food does not fall apart too easily.
Chunks that crumble when chewed can aggravate plaque, because leftovers remain in the teeth. Pressed kibble often falls apart easily, while crunchy kibble is harder and your dog really has to chew it to get them small. Crispy kibble is therefore often a better option for dogs with healthy teeth.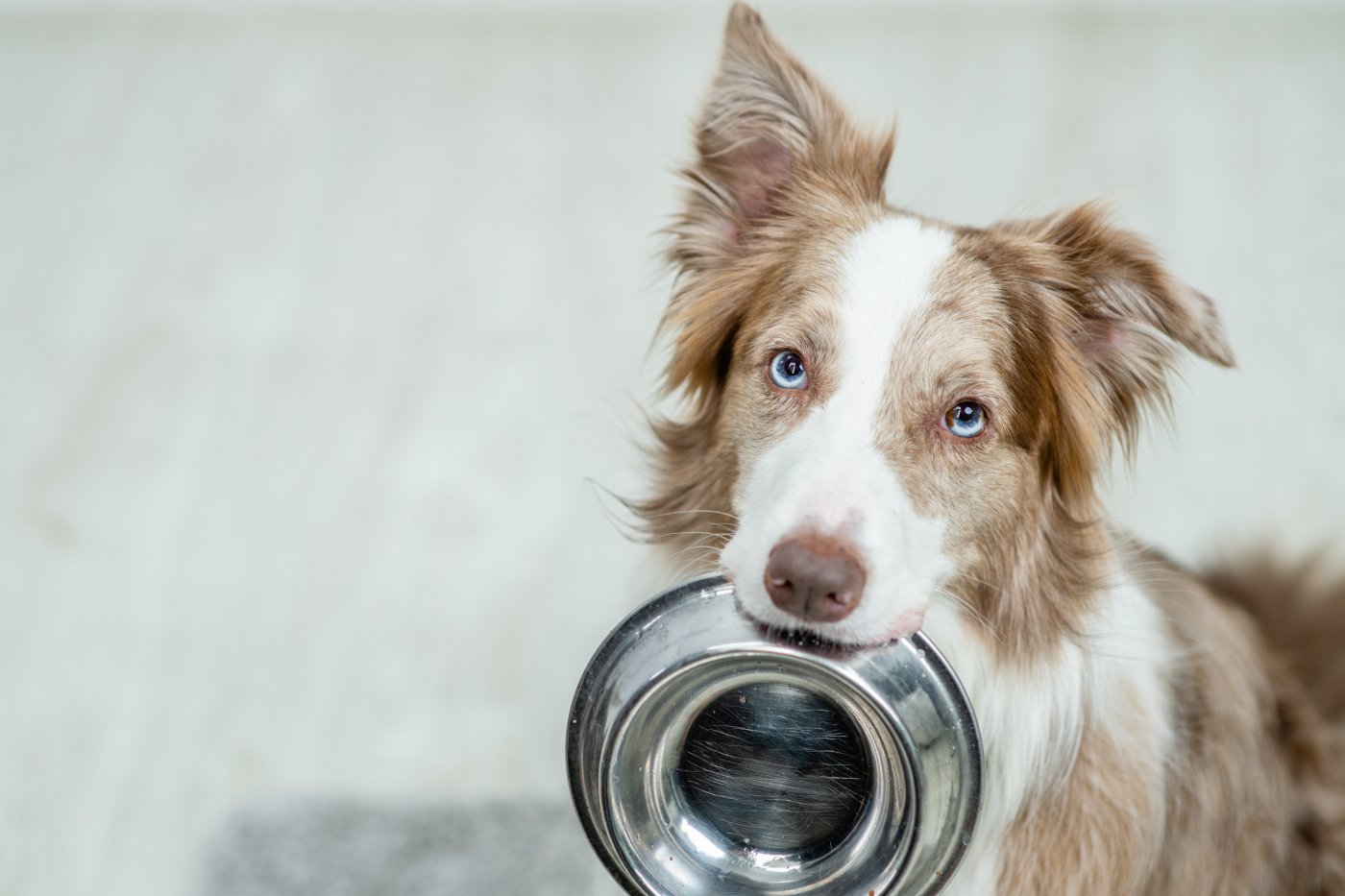 My dog still gobbles, now what?
What to do with a gobbling dog
Is your dog so enthusiastic about his favorite kibble that - despite the right size and hardness - he still startled? Then try these tips to stimulate chewing:
1. Eating In A Quiet Place:
The more distractions, the faster your dog eats. Place the food bowl in a place where your four-legged friend can eat quietly on his own to reduce gobbling behaviour.
2. Hide the chunks:
Scatter the chunks around the house and let your sleuth do its job. By putting the food in different places, gobbling is simply not an option.
3. Put the food in an anti-shock bowl or food toy:
want to eat everything in one big bite? Not an option if you give kibble in an anti-shock bowl or food toy.
By counteracting gobbling, you increase the chance that your dog will chew his chunks well. This contributes to healthy teeth. An additional advantage is that your dog will feel full faster if he eats more slowly. This will reduce the risk of being overweight.
choose the right chunk
Do you know which kibble is suitable for your dog?
Then take a good look at his breed, ideal weight and the shape of the jaw. In the Fokker range you will find kibble for dogs up to 10 kilos, 10 to 30 kilos and 30 to 80 kilos. Each type of kibble is the right size for your dog and contains nutrients that support health.
We have an extensive range including feed for
sterilized, sensitive and picky dogs.
View the entire range