Is your dog having the crazy five minutes again?
Hypoallergenic dog food: this is how you recognize a food allergy

Spinning around, scratching his head, almost acrobatic twirling his snout towards his flank… No, this is not the crazy hour. Then what? Your dog is probably itchy and doing everything he can to get rid of it. If you're sure there aren't any fleas in his fur, your dog may have a food allergy.
Read on to learn all about hypoallergenic food for dogs.
How do you recognize allergies and what are dogs allergic to?
The main symptom is itching.
Some dogs only scratch their ears, others spend all day making their bodies itch-free. Often the paws of a dog with food allergies turn slightly darker, because they lick themselves a lot there. Furthermore, you sometimes see red skin or bald spots in the coat. The vet can help you make a diagnosis.
Dogs with a food allergy react to a certain protein. This can be a protein from meat, such as chicken or beef, but also a protein from wheat, maize, rice or soy. The majority of dogs with a food allergy are allergic to beef, dairy products or wheat. These are therefore definitely products that you should avoid in a hypoallergenic diet.
About 80% of four-legged friends develop allergy symptoms in the first year of life. Incidentally, dogs – just like people – can also have an intolerance. In that case, the complaints are often less serious and they only occur if your dog eats a large amount of the food to which he is intolerant. Nevertheless, hypoallergenic food also offers a solution in the event of an intolerance.
Your dog on a diet
How do you find out what your dog is allergic to?
To find out what your dog is allergic to, there is only one thing to do and that is a diet. You then only feed a hypoallergenic food for 6 weeks. Not a slice of sausage, not a dog biscuit, and — no, cute dog eyes — not a nice bone to chew on either. After 6 weeks you go back to the vet to see if the complaints have diminished.
If so, then your four-legged friend does indeed have a food allergy. This means that you can only feed him hypoallergenic for the rest of his life. pathetic? Not really! Hypoallergenic chunks are just as tasty and healthy as other types of food.
Hypoallergenic chunks for dogs
What makes hypoallergenic food different from other food types?
Hypoallergenic chunks contain fewer different types of protein sources. These are also proteins that most dogs do not have an allergic reaction to, such as lamb, fish, duck or goat. In addition, a hypoallergenic diet can only contain hydrolyzed proteins. These types of proteins are cut so small that they can no longer cause a reaction.
Fokker food for sensitive dogs
Fokker has the best food for your dog
In the Fokker range you will find different types that are suitable for dogs with a tendency to allergies.
For example, the Fish-Fit chunks consist of salmon and rice and the Sensi-Fit chunks only contain lamb and rice.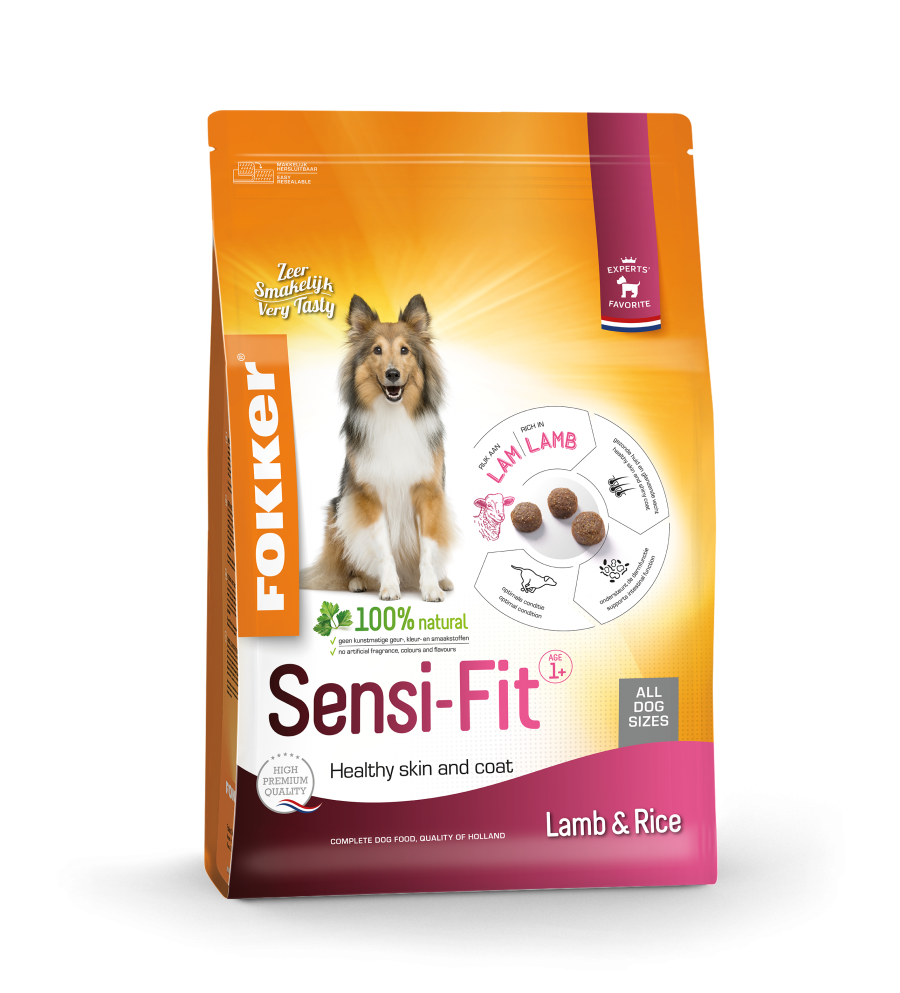 Dog Sensi-Fit
High premium dog food for adult dogs based on lamb and rice. Particularly suitable for sensitive dogs.
See product