Puppies need two to four times as much food
Buy good puppy food

We have to run, jump, fly, dive, fall, get up and keep going. They have plenty of energy. And they are also growing rapidly. Did you know that puppies often need two to four times as much food as adult dogs? That is precisely why good food is especially important in the first months of a young puppy's life.
Food that fits the breed
You soon see the first differences arise,
although puppies are all born small. Therefore, this is the first thing to consider when selecting puppy food. Find out what the average weight is for an adult dog of your puppy's breed, and make your choice accordingly. A good pet food brand has puppy food available for different weight classes. For example, our Fokker Opti-Grow is available for small, medium and large dog breeds.
Nutrients that help with growth
In the first 9 to 18 months – depending on the breed – your puppy is fully growing.
The food should meet the special nutritional needs of puppies. Chunks for puppies contain, among other things, a high nutritional density with more (animal) proteins, essential vitamins and minerals and omega 3 and 6 to support the skin and coat. It is also important for large breeds that feed contributes to an even growth of the skeleton. This helps prevent growing pains and problems later in life.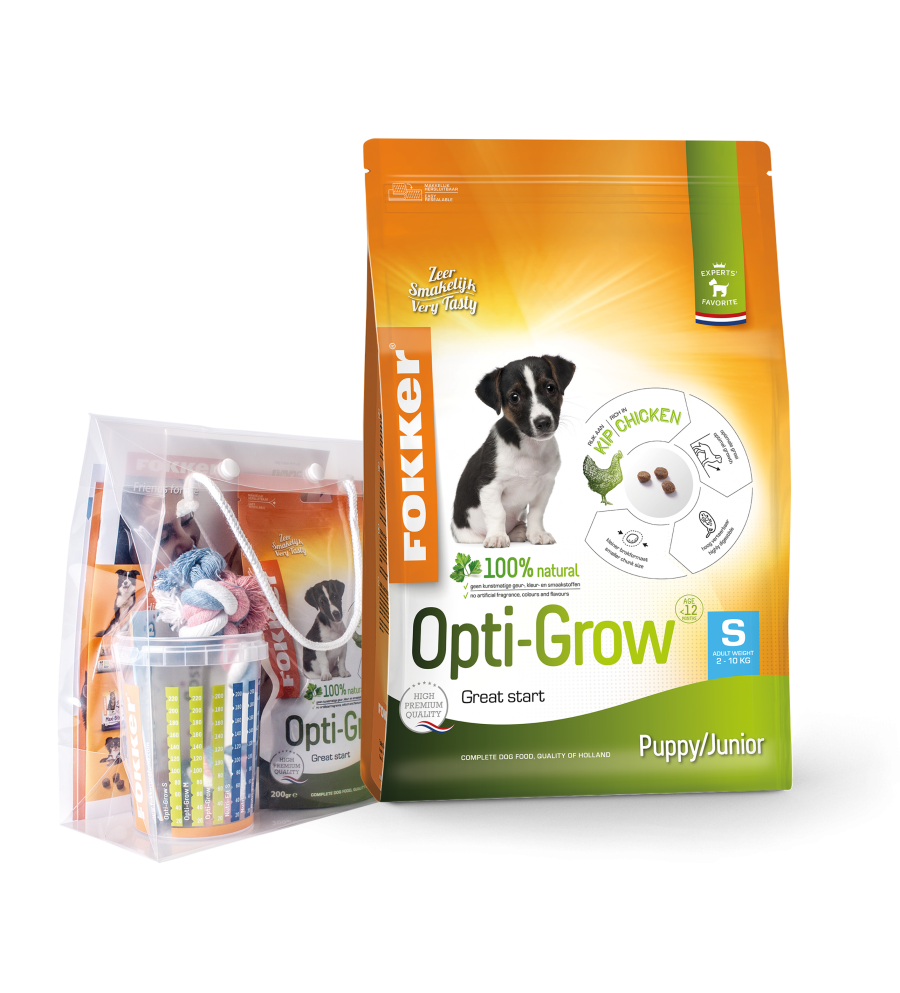 Free Puppypack
Good nutrition is indispensable and with the right care and attention you will have a buddy for life.
See product
How often to feed?
Puppies still have small stomachs.
It is therefore better to feed your little four-legged friend several meals a day. In general, you should feed a puppy four times a day between 8 and 12 weeks and three times a day until 6 months. After that you can switch to two daily meals, but this is not necessary. In any case, make sure that you divide the daily amount of food well over the portions, so that your puppy does not get hungry in between.
Switching to adult dog food
When is the time right for that?
When your puppy has gone through its biggest growth spurt, it's time to switch to an adult food. For small breeds this is often around 9 months, large breeds continue to grow for at least 12 to 18 months. Switch on time to prevent an excess of energy – and thus obesity. Make sure that the transition to new food goes smoothly. You do this by slowly mixing the new food with the old. Start with a small portion, and increase in size until the puppy food is used up and your dog is only eating the adult food.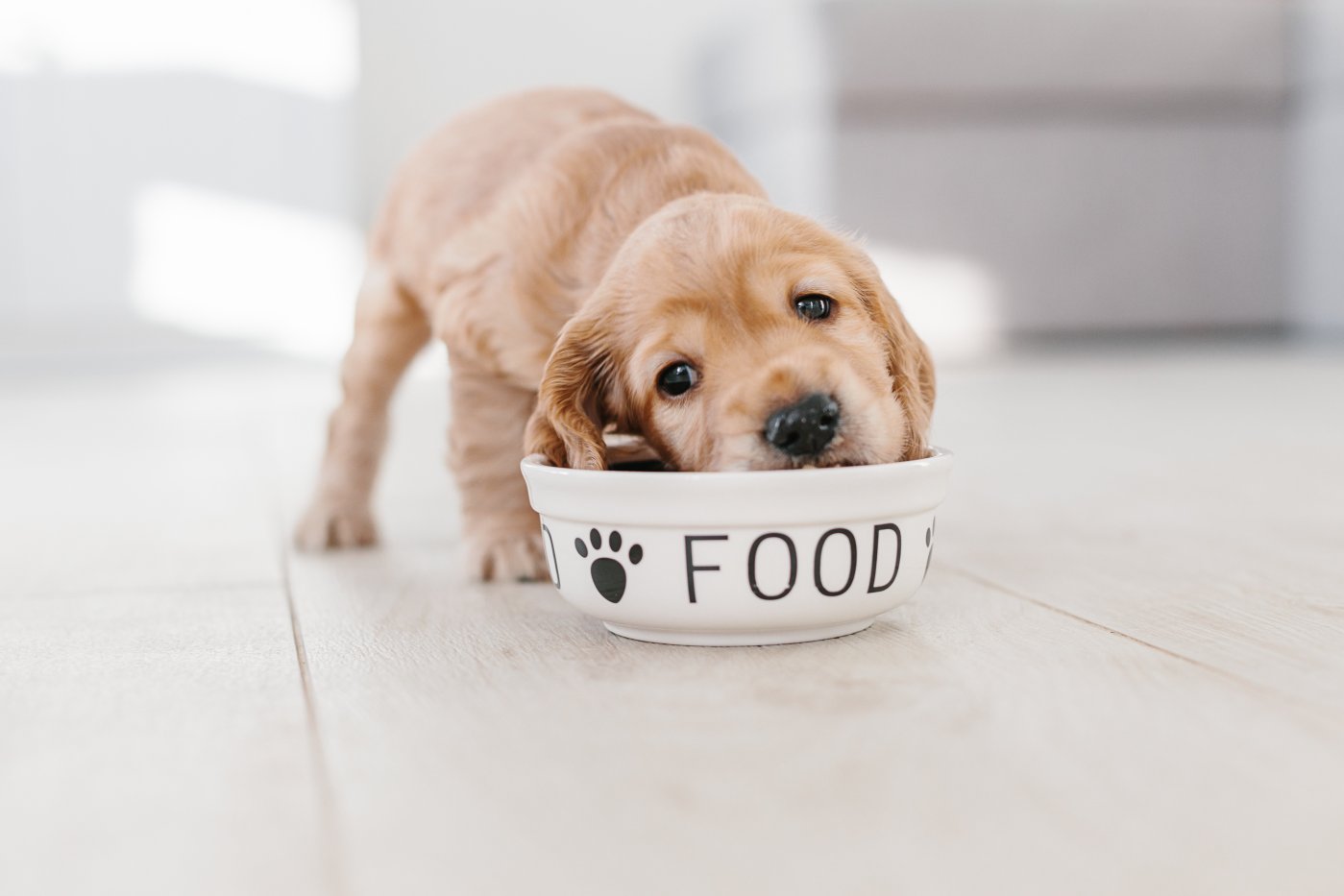 Fokker chunks for puppies
Good food contributes to the development and healthy growth of your four-legged friend.
That's why our puppy food contains all the nutrients a growing dog needs. These are the features of Fokker's puppy food:
Opti-Grow S: adult weight between 2 and 10 kilos, perfect ratio of required nutrients and suitable for the small jaw size.
Opti-Grow M: adult weight between 10 and 30 kilos, supports healthy bones, strong muscles and an even growth.
Opti-Grow L: adult weight between 30 and 80 kilos, prevents growing pains due to a balanced calcium content.
In the nutritional table for the three food types, you can see exactly how many kibble your puppy needs per day. It is also indicated at which age it is best to switch to adult food.
This is standard at Fokker with the Nutri-Fit. It is also available in S, M and L.
We have an extensive range including feed for
sterilized, sensitive and picky dogs.
View the entire range