The time has finally come
Checklist: this is what you need when you have a kitten

You get a new kitten! If you bring such a small fluff ball into your home for the first time, you may be wondering what you need. What food is best for growth, how many litter boxes do you need and which toys are suitable for a kitten?
In this article you will find an overview of everything you need to do before your kitten comes to live with you.
Basic necessities for your kitten
Your new kitten needs food, water, and a place to do her needs.
This is therefore a useful starting point when you start collecting the stakes for your kitten. Because this is about the basic necessities of life, it is important to choose quality. If all goes well, you will enjoy it for years. Put these items on your shopping list:
Feed: choose special kitten kibbles from a good brand. If necessary, ask the breeder what food your kitten is giving. You can then continue to feed this for a while, until you slowly switch to the brand of your preference. At Fokker you will find special test packages with which you can get acquainted with our kitten food.
​​Food bowl: A kitten basically needs one food bowl, but it is more practical to have two. This way you can wash them off in turn. Choose a feeder made of metal or ceramic. Plastic eventually takes on a smell, and your kitten doesn't like that. Make sure the food bowl is low and wide so that your kitten's whiskers don't touch the edge.
​Drinking bowl: the drinking bowl must meet the same requirements as the food bowl. It is best to place containers of water in different places in the house. Do not place the drinking bowl next to the food bowl, because then there is a good chance that your kitten will refuse to drink from it.
​Litter box: you need at least one litter box per kitten. An open or covered one can do both, but in the latter case remove the valve from the container. This way your kitten does not have to search for her litter box and she can quietly learn where to do her needs.
​Cat litter: For young kittens, it is better not to take lump-forming cat litter. Do not switch to this until you are sure that your kitten does not eat the cat litter. The choice of pebbles, silicate or wood pellets is personal. Never buy cat litter with an added scent, as this will scare off your kitten.
Free KittenPack
Good nutrition is indispensable and with the right care and attention you will have a buddy for life.
See product
Extra kitten release
Now that you have your kitten's basic necessities on your (virtual) shopping list, you can start collecting the rest of the stakes. Put the following items on your checklist:
Scratching post: if you prefer to keep your furniture intact, it is smart to purchase a scratching post or shelf. There are several options for this. From a round barrel with sleeping places to a climbing tree where your cat can enjoy himself.
Sleeping place: a soft plush basket, a hammock on the heating or a cardboard box with a towel. Your kitten sleeps everywhere. Look especially at your budget if you are looking for a place to sleep for your kitten, because it is easy to save on this.
Toys: Play is essential for a cat, and even more so for a young kitten. Make sure your kitten can release her energy with a feather rod, toy mouse or rattling ball. Good to know is that most kittens are also overjoyed with a piece of paper or acorns from the forest. As long as it moves!
Carrier: useful if you are going to pick up your kitten, but also if she has to go to the vet. A good carrier is spacious enough, closes well and has a few cheat holes. There are few cats that like to go in the carrier, but of course you want to make it as pleasant as possible.
Other: Finally, there are various items that your kitten does not need immediately, but that will be useful in the future. Think of a collar (with address tag), deworming and de-fleaing agent, a coat brush, cat flap, nail clipper, cat grass and sweets.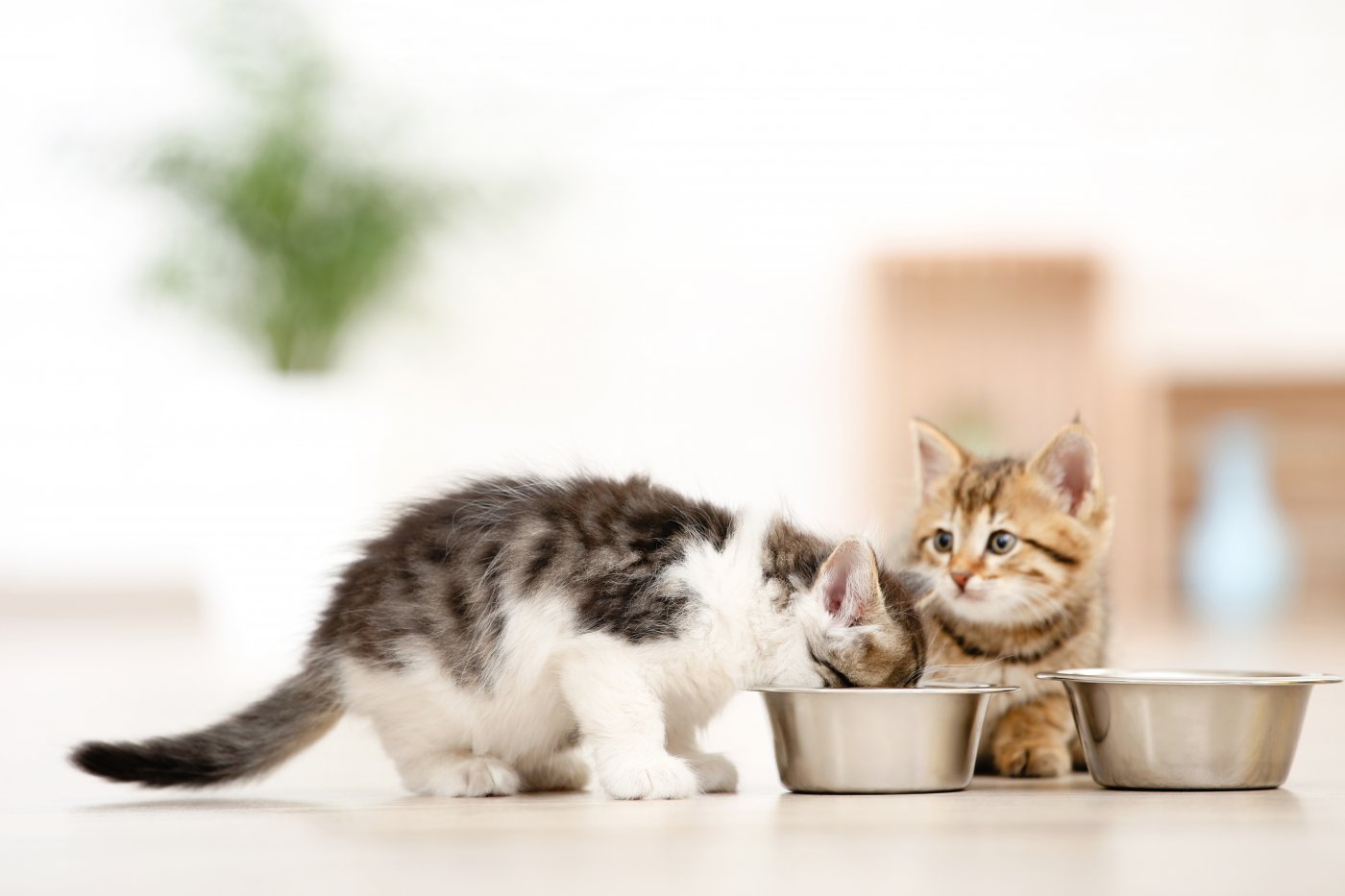 Making the environment kitten-proof
A new kitten not only asks for new things, but also for a house where she can live comfortably. Check the following points before your kitten arrives at your home:
Safety: in the first months, a kitten is like a toddler who tries everything.
Make sure your windows and doors are closed to prevent escape, clean up small items, and make sure your kitten can't fall behind or get stuck anywhere. Remove loose cords, hang up the curtains and cover your sofa if it is dear to you.
Rest: leaving the nest and ending up in a new place is intense for your kitten. Therefore, offer her – especially the first days – a lot of rest. If you live tall, you can keep certain doors closed so your kitten doesn't get lost. Also, don't let your children play with the kitten just yet. There is still plenty of time for that later.
Parenting: Raising your kitten is perhaps the most difficult aspect as a new kitten parent. Nevertheless, it is important to start from day one. Rewarding works best with cats. Learning good behavior is a lot easier than unlearning bad behavior. Therefore, try to provoke positive behavior and reward it if your kitten does something sweet. Bad behavior is best ignored as much as possible.
Potty training: cats instinctively start looking for a place where they can dig a hole to do their need from 4 weeks. You therefore do not have to train your kitten for potty training. However, it is smart to put the litter box close by. Kittens often think late that they have to go to the box, and if they still have to walk far, it can even be too late.
Complete kitten checklist
There is a lot coming at you when you get a kitten. Nevertheless, we especially want to tell you that this is a wonderful time. Your kitten is playful, very cute and busy discovering everything. To give your kitten a good start, Fokker has the special kitten food Opti-Grow. These small kibbles ensure optimal growth and support the immune system. This way your kitten grows up healthy.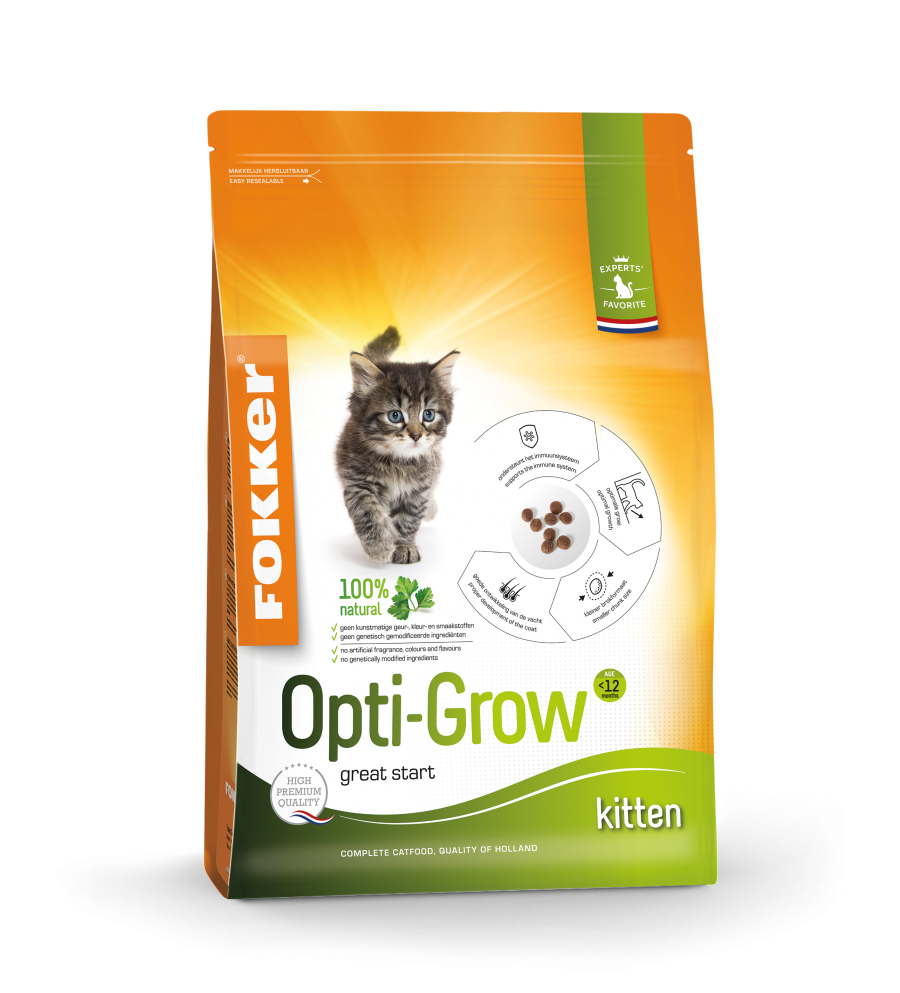 Cat Opti-Grow
A complete premium cat food for kittens. High-quality ingredients for healthy development.
See product