They grow up fast
3 important stages in the growth of your kitten

If you blink once, it looks like your kitten has grown a bit again. Although it does not go that fast, kittens grow very fast. In the first 6 months of life, they already achieve 75 percent of their adult weight. After a year, most cats have grown. For comparison, it takes a person about 15 years. Because the growth period is so short, it's important to let your cat grow with policy.
Phase 1
From breast milk to solid food
For the first few weeks, kittens drink milk from their mother. This is all the nutrition they need. From the age of 3 weeks, you can introduce your kitten to solid food. Start with small spoonfuls of wet food or soaked kitten kibble. If necessary, mix this with a little artificial milk, so that the transition is gradual. When kittens are between 6 and 8 weeks old, the mother cat has less and less desire to let them drink with them. Now is the right time to switch to solid food.
It is important that you feed small amounts in the beginning. At 8 weeks of age, a kitten's stomach is as big as a nut. Such a small stomach does not fit nearly enough food to eat for a whole day. Therefore, divide the food over 4 to 6 meals.
Only from the age of 5 months you can switch to 3 meals a day.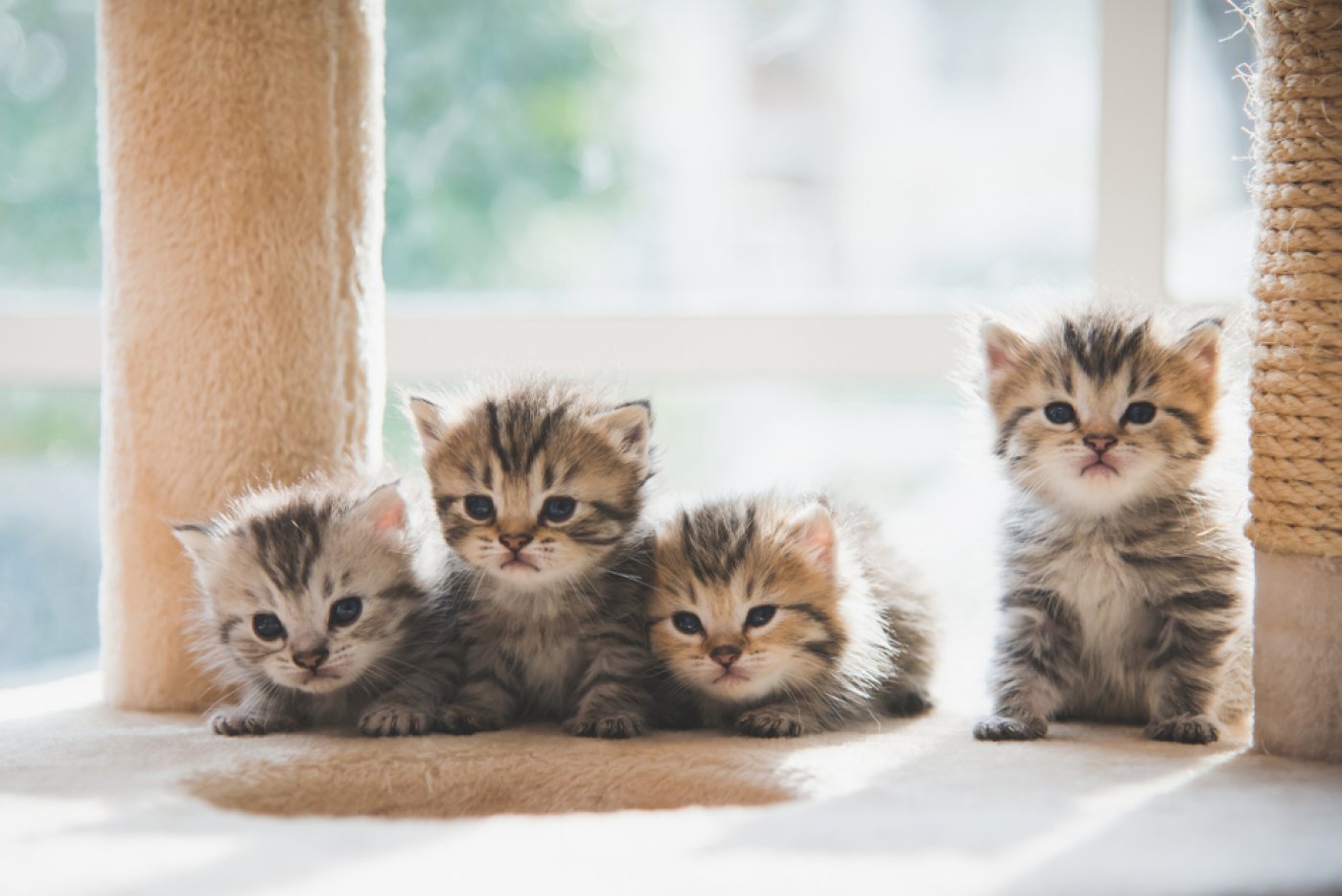 Phase 2
From breeder's food to Fokker's food
When picking up your kitten at the cattery, you usually receive a bag of food. We recommend giving this food to your new roommate for the first two weeks. The transition is already huge, so it is nice if a few things remain the same. Once your kitten is used to their new environment, you can switch to the kitten food of your choice, such as Fokker Cat Opti-Grow.
Getting your kitten used to a new taste is done by mixing a little of the new food with the old food. On the first day, give 80% of the old feed and 20% of the new one. If this goes well, you can adjust the ratio to 60-40. Increase the amount of the new feed further and further, until you have completely switched. How long this process takes differs per cat. Often a week is enough.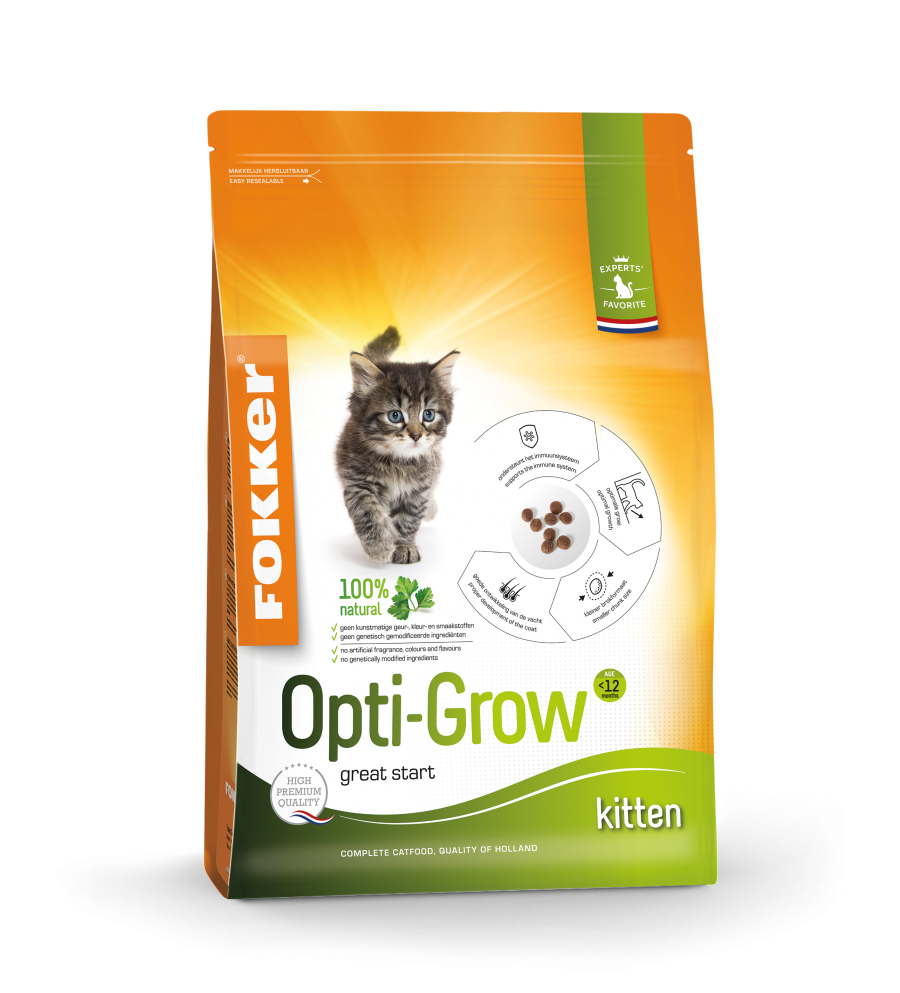 Cat Opti-Grow
A complete premium cat food for kittens. High-quality ingredients for healthy development.
See product
Phase 3
From kitten to adult cat
For most kittens, it is good to eat special kitten food until their first birthday. This contains all the nutrients that your kitten needs. Your kitten not only grows in weight, but also builds the muscles, bones and immune system. Food for adult cats is focused on maintenance, and therefore contains fewer nutrients that contribute to healthy growth.
Until the 6 months, kittens are in full growth. Around that age, the sterilization or castration often takes place. These procedures change the hormone balance, so that some cats quickly gain weight afterwards. If that happens to your cat, you can discuss with the veterinarian whether it is smart to switch to an adult food earlier. This way you prevent overweight at a young age.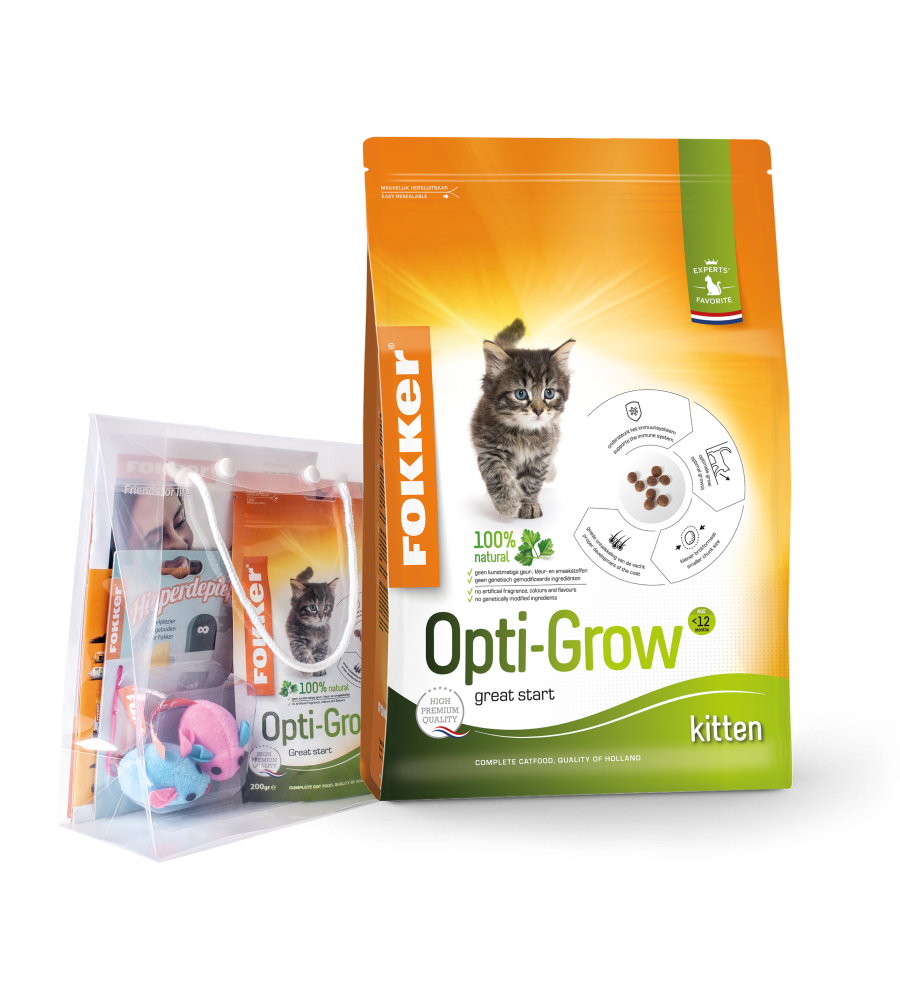 Free KittenPack
Good nutrition is indispensable and with the right care and attention you will have a buddy for life.
See product

Choose the right kitten food
For the growth of your kitten, it is extremely important to choose good food.
Poor quality food hinders your kitten's development. While precisely
those first months are so important for a happy and healthy life. If you
kitten is lethargic, sheds a lot or has loose stools, chances are it
feed is not optimal for health.
Fokker Opti-Grow is specially tailored to the needs of a cat in growth.
It contains all the vitamins and minerals your kitten needs to help them
support muscle building and the immune system. After the first
year of life you can just continue to feed Fokker. For adult cats have
we have an extensive range including feed for sterilized,
sensitive and picky cats.
For adult cats we have an extensive range including food for sterilized, sensitive and picky cats.
View the entire range