Do you want to have your cat spayed or neutered?
The effects of sterilization on your cat

Are you wondering what the effects are for you and your cat? There are several things to consider. Fortunately, much of this can be solved by feeding your beloved four-legged friend the right food. But what are the benefits of spaying or neutering your cat? Cats benefit from spaying or neutering for several reasons. There are many benefits for both the cat and the owner.
The main reason is probably to prevent litters
In addition, the life expectancy of your cat is doubled.
They have less risk of mammary gland tumors, uterine inflammation or malignant breast cancer due to sterilization or castration. Also, a cat becomes much calmer after sterilization or castration. They show less territorial behavior and the chance of accidents, running away and quarrels with other cats is reduced.
What are the dangers of sterilization and castration
What are the disadvantages of sterilization and castration
In addition to the many benefits, there are also a number of things to take into account when a cat is spayed or neutered. A change in the hormones also causes a change in metabolism. Spayed and neutered cats have a lower energy requirement, but a higher appetite. This increases the risk of obesity. In addition, they have an increased risk of problems with the urinary tract and coat.
How do you solve it?
Fortunately, the above 'problems' can be solved well with the right nutrition.
For example, you want the diet for the spayed/neutered cat to have a lower energy content and a higher fiber content. Also, a reduced amount of struvite (bladder grit)-forming minerals ensures a controlled urine pH. This supports the urinary tract, so that problems can be prevented.
Steri-Fit line
Fokker has special cat food for sterilized cats
The Cat Steri-Fit. Within this line are the Steri-Fit and the Steri-Fit Skin & Coat. Fokker Cat Steri-Fit is a completely natural food, made from quality ingredients. This dry food contains all the nutrients that a sterilized cat needs. The recipe provides vital substances that ensure that your cat is and remains healthy.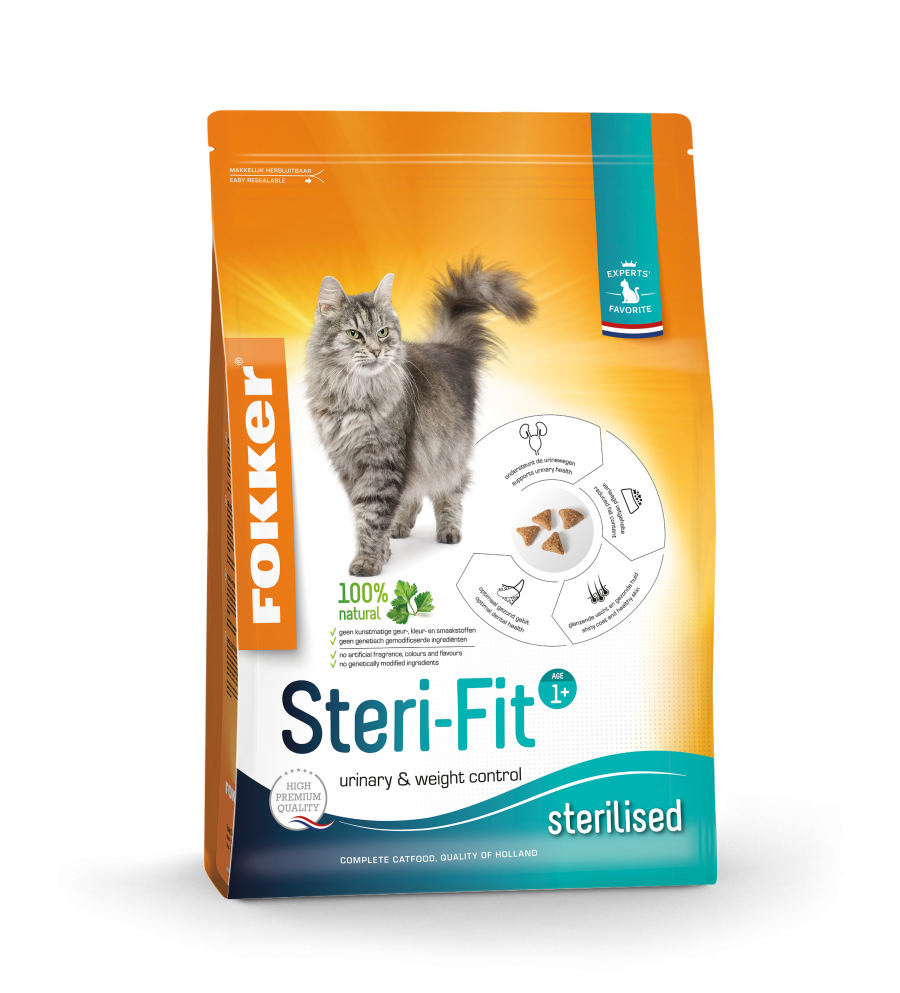 Cat Steri-Fit
Complete premium food for adult cats with a tendency to be overweight or sterilized.
See product
All the ingredients and benefits of the Steri-Fit
Nutrients and ingredients
Tailored to the nutritional needs after a sterilization
Low-fat recipe: for efficient weight control
Adjusted amount of minerals: prevents the build-up of kidney stones
Optimal pH value of the urine (6.5): supports the proper functioning of the urinary tract
100% natural: contains no colourings and fragrances
27% chicken: tasty, easily digestible & rich in valuable animal proteins
14% rice: source of easily digestible carbohydrates
With barley: contains a low glycerol content and has no fast sugars
Rich in omega-3 & -6: from salmon oil, for soft skin and a shiny skin
For healthy teeth: the recipe supports healthy teeth and strength of teeth Support vitality: thanks to a balanced blend of vitamins, minerals and trace elements
With inulin from chicory and linseed: to regulate the intestinal flora and promote healthy digestion
With taurine: an essential nutrient for cats, which can support the heart & strengthen vision
Contains yucca: can reduce stench of the feces
Easy to digest: particularly tasty thanks to natural ingredients & a high amount of meat
Steri-Fit Skin & Coat
Focused on the skin and coat
The Steri-Fit Skin & Coat contains all the good that the other Steri-Fit variant contains, but is more focused on cats that need an extra impulse for a healthy skin and coat. In contrast to the Steri-Fit, the Skin & Coat contains 63% pig, which promotes a shiny coat and healthy skin. The Steri-Fit Skin & Coat also contains 16x more Lecithin compared to the Steri-Fit. This natural nutritional element supports fat metabolism. As a result of proper digestion, essential vitamins such as A, D and E are also better transported within the body. This ensures healthy skin and coat, but also strong bones and a strong immune system.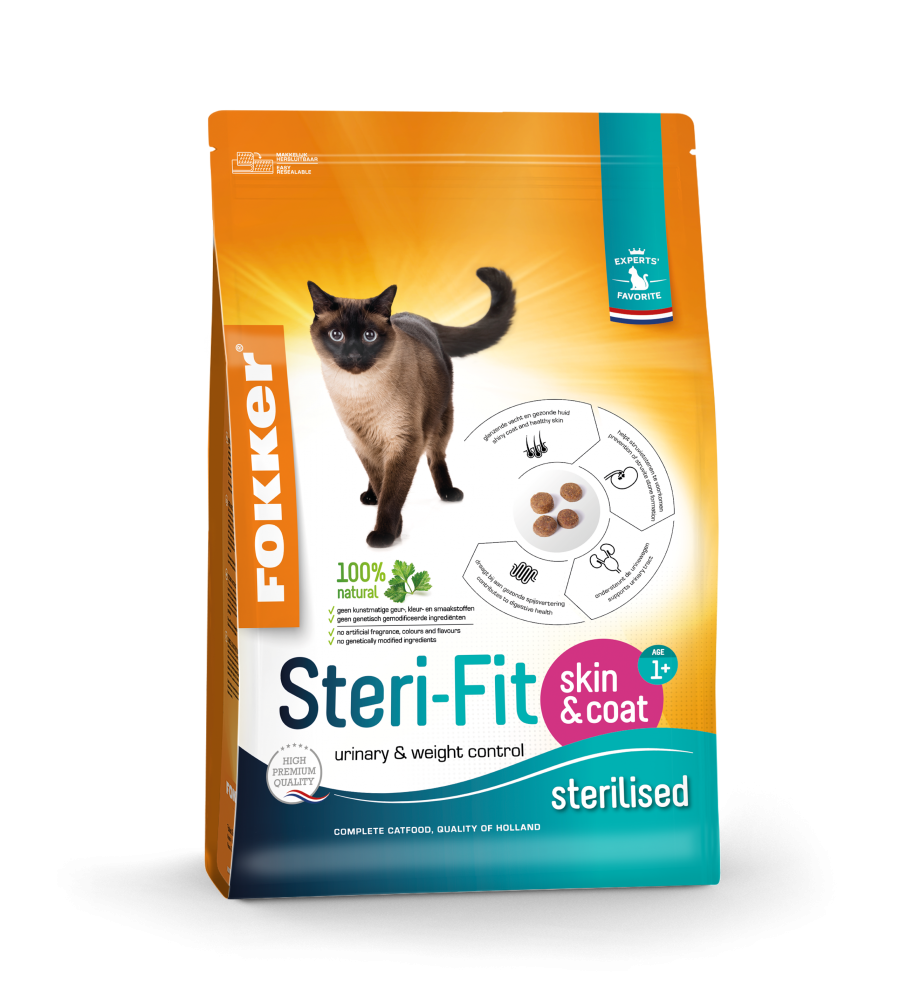 Cat Steri-Fit Skin & Coat
Food for adult cats that have been sterilized and need an extra boost for skin and coat.
See product