Help, my cat's coat is changing color!
Possible causes of coat discolaration with your cat

No, of course not so much that you no longer recognize your own tiger on the street when you meet her, but still. She used to be intensely black, now her fur looks brown. Although not common, a cat's coat can indeed change color throughout its life.
Read here a few possible causes of fur discoloration in your cat
1. From kitten to adult cat
Most kittens are born with the coat markings they have as an adult cat.
Some breeds are an exception to this. For example, the Ragdoll and Siamese are often born bright white, and later the characteristic colors appear on the face, on the legs and the tail. Also the Russian Blue - with the typical 'blue' coat - is often born with markings in the coat that later disappear.
2. From junior to senior
Even in old cats, the coat sometimes changes color slightly.
In general we can say that from about 12 years, the cat's fur becomes a bit stiffer and thinner. Good care is then extra important. A dry coat can get tangled faster, so it should be checked or brushed regularly. The shade of the coat can also change with age. Don't expect a completely different drawing, just some gray whiskers and eyelashes.
3. Skin Problems, Fleas or Allergies
A color change in your cat's coat could indicate a skin infection or allergy.
The coat does not change because of the skin problem, but because your cat washes more often than usual. How come? Your cat's saliva contains brown pigments, which come from old red blood cells. If your cat washes much more often than usual, those pigments will remain in the coat. Good to know is that fleas are very itchy and can therefore lead to more washing – and a different coat color.
4. Sun
Does your black cat like to enjoy the sun?
Then his fur can turn reddish brown. Just like your own hair is a bit lighter after a holiday in the sun, this sometimes also happens with cats. Be careful not to sunbathe with your cat for too long. A black coat absorbs a lot of heat and can therefore lead to overheating. A spot in the shade is just as nice!
5. Nutrition
Good nutrition contributes directly to a healthy coat condition.
The hair has a nice shine, is soft and lies close to the skin. Although real fur discoloration as a result of food hardly occurs in cats, the natural fur color does appear more intense if the fur is healthy. An additional advantage is that cats that are fed high-quality food shed less. That saves some vacuuming.
Your cat comfortable in his fur
Do you see your cat's fur changing color and not sure why?
Always pay a visit to the vet. This can rule out any allergies, deficiencies or infections.
Good food can also do wonders for a beautiful coat. In the Fokker range you will find special food that supports a good condition of skin and hair.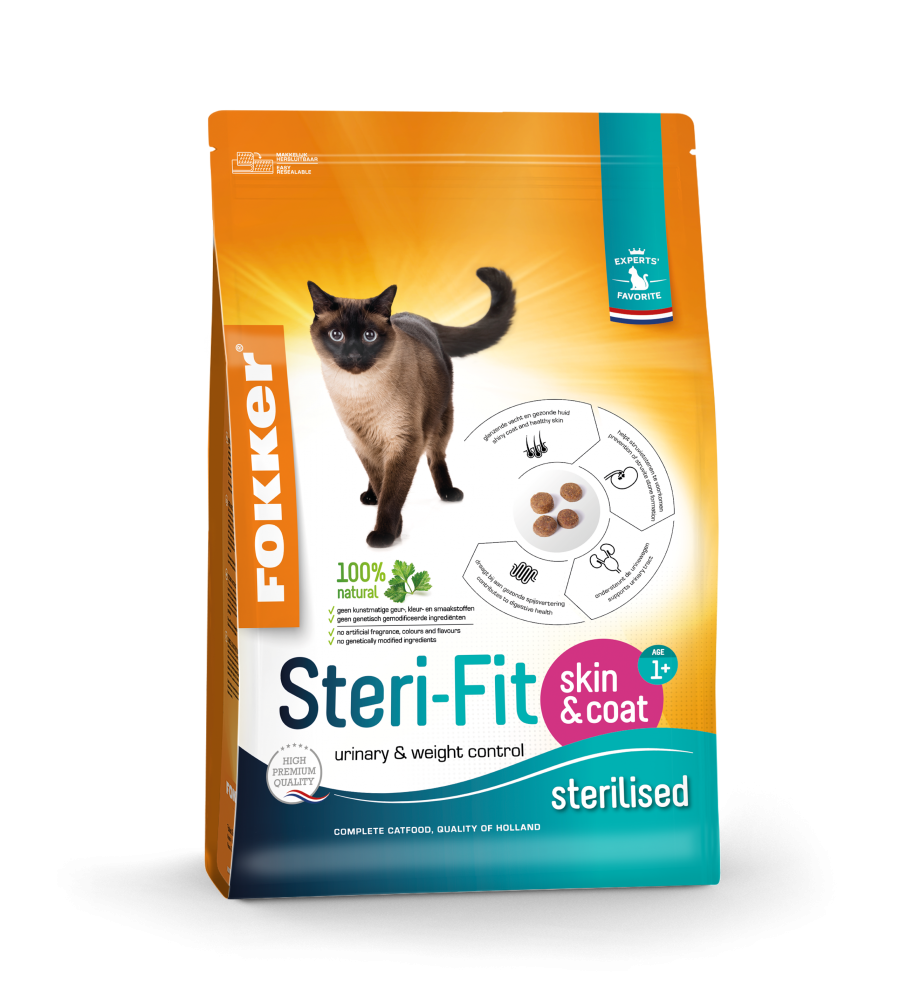 Cat Steri-Fit Skin & Coat
Food for adult cats that have been sterilized and need an extra boost for skin and coat.
See product